Shopping Cart
Your Cart is Empty
There was an error with PayPal
Click here to try again
Thank you for your business!
You should be receiving an order confirmation from Paypal shortly.
Exit Shopping Cart
Health and Fitness Solutions for Experiencing Life In Motion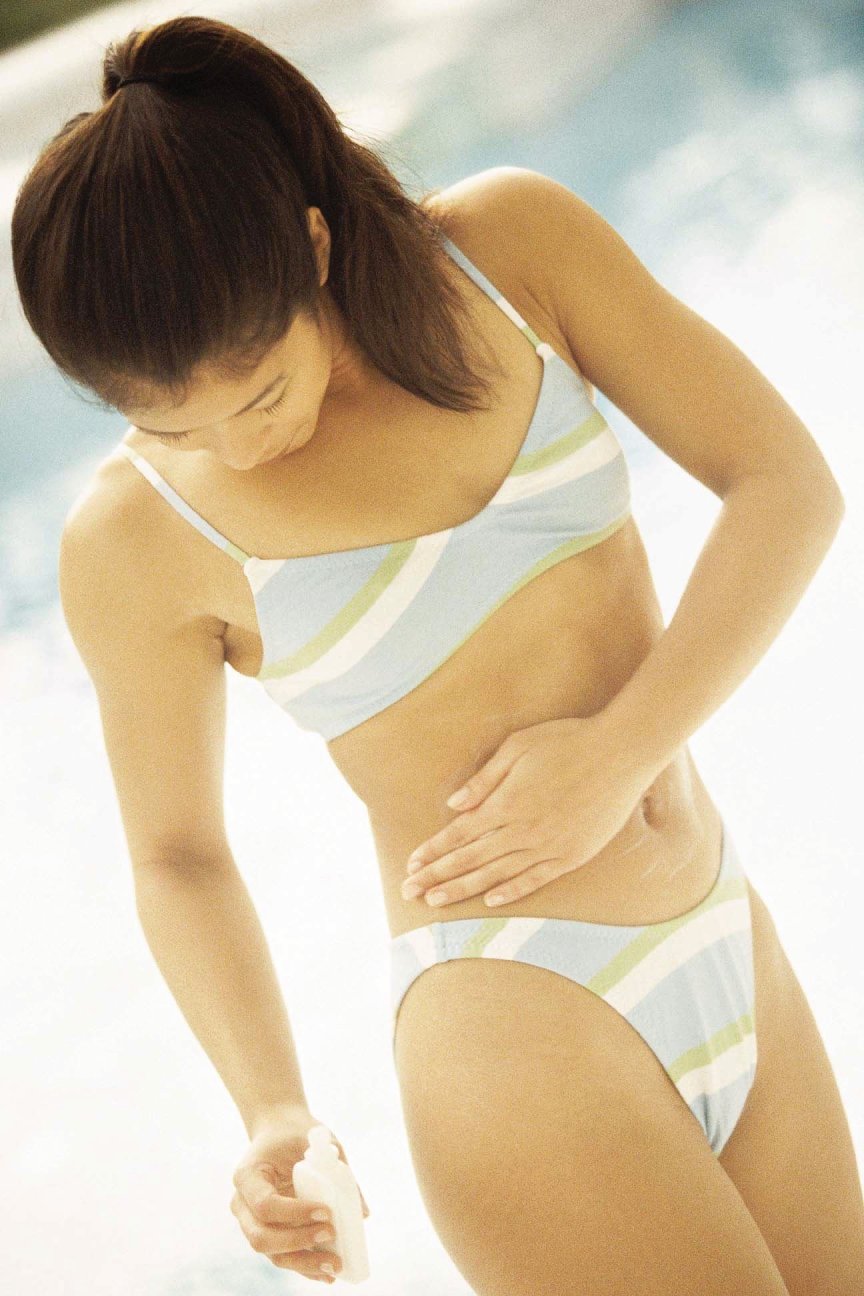 The pressure of bikini season begins the moment we look in the mirror for the first time and notice that our bums are not as high nor our abs are as flat as they were last year.  If you are feeling ill-prepared this year, here is a jump start program that will firm up the swimsuit zones and get you bikini ready in 30 days!
Tone the Zone
To achieve a great bikini body, you must tone the areas that get the most attention.  Quite frankly, because you are half naked in a bikini, pretty much all areas of the body need attention.  Therefore, exercises that engage all muscles of the body simultaneously are optimal and great time savers.  Perform a total body resistance routine three times per week.  In addition, perform cardio exercises, such as walking vigorously, for 30 minutes 4-5 times per week.
Avoid the Bloat
We all dread the bloated feeling that we may feel the day that we plan on going to the beach or pool.  Avoid the bloat and keep the abs looking flat by reducing your sodium intake. Salt is the number one contributor to bloating.  Avoid foods which are gassy such as cabbage, beans, milk, and foods which contain lactose.  Too many starchy foods combined with protein contribute to bloating.  Try not to drink anything that is very cold, but keep it at room temperature.  Avoid overeating any type of food.  Portion control can reduce bloating.  Check to determine what condiments may cause your bloating, such as mayonnaise and the like.  Eating processed foods such as macaroni and cheese can cause bloating due to its high sodium content.  Avoid diet sodas and candies.  Constipation may also be a factor in bloating; therefore, eat foods rich in fiber.  Drink chamomile tea, which is not only good for the digestive system, but reduces bloating as well.  Chew slowly when eating meals.  The old adage of chewing 100 times may be true.  Lay down your fork between each bite.  Follow these tips beginning 30 days from the date you plan on wearing your bikini.  Any sudden changes to your diet may cause bloating.
Prep the Skin
First and foremost, use sunscreen of at least 15spf.  No one likes a red blistered bikini body.  Self tanners are great for giving one that extra glow; however, exfoliate before you use a self tanner for optimal results.  Although cellulite is hereditary and has little to do with weight loss, you can slightly diminish the "cottage cheese" by eating healthy, drinking lots of water, and exercising.  In addition, lather on the lotion with cocoa butter after every shower.  Lastly, don't forget about your back.  Avoid acne on the back by using a back brush to exfoliate and reduce blemishes.  You can use masques on your back as well.
Sleep
Ensure that you get plenty of zzzz's so that you will have enough energy at the beach or pool to do all the fun activities.  Not only will 8-9 hours of sleep each night boost your energy, but will also boost your metabolism. 
Follow these simple tips, and in 30 days you and everyone else will be ready for that bikini!

/