Shopping Cart
Your Cart is Empty
There was an error with PayPal
Click here to try again
Thank you for your business!
You should be receiving an order confirmation from Paypal shortly.
Exit Shopping Cart
Health and Fitness Solutions for Experiencing Life In Motion
| | |
| --- | --- |
| Posted on October 31, 2013 at 12:41 PM | |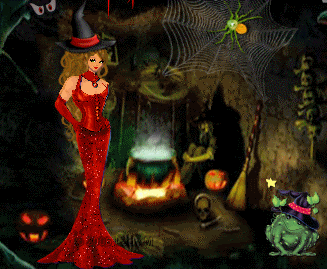 Ideally we all know that one should eat nutritionally consuming healthy calories through 2-4 servings of fruit, 3-5 servings of veggies, 6-11 servings of whole grains, 2-3 servings of low-fat dairy, and 2-3servings of lean protein per day all while keeping high fat foods down to a minimum.  However, let's face it.  How realistically are you achieving that goal?  Are you really consuming all the necessary vitamins and minerals (micronutrients) necessary to function and fight disease?  Are you able to manage your weight by consuming the appropriate amounts of healthy macronutrients: carbohydrates (55-60% of daily caloric intake); proteins (15-20% of daily caloric intake); and fats (15-20% of daily caloric intake)?  One should focus on getting proper nutrition through eating proper foods; however, if doing this is not realistic due to lifestyle or discipline, one option is to belly up to the smoothie bar and get yourself some healthy witches brew this Halloween season.
 Meal Replacement Drinks
What's Brewing?  The purpose for a meal replacement drink or shake is just that- - a drink that has the essential nutrients to replace an actual meal consisting of actual food.  You can even call these meal replacement drinks "meals on wheels" because they are convenient for "on the go" individuals.  A meal replacement drink is not a snack.  Because of the high calorie content--anywhere from 200 to 400 per shake--many people with good intentions sabotage their diets by drinking shakes as snacks instead of as meals.  Meal replacement drinks may look like regular milk shakes, but they're actually a unique delivery system for nutrients--proteins, fats, carbohydrates, vitamins and minerals. When consumed periodically, they offer a healthful alternative when a conventional meal isn't available.  Meal replacement drinks are nutritionally dense containing anywhere from 35 percent to 100 percent of the recommended daily allowances (RDA) of vitamins and minerals. If you drink a smoothie in addition to taking a daily multivitamin, you may exceed the recommended daily allowance for some vitamins and minerals, such as vitamin A, which can be harmful; therefore, ensure that you are reading the labels.  Typically protein, whether whey or soy, is the cornerstone of most meal replacement drinks containing 15-18 grams of protein, the equivalent of 2ounces of a roasted chicken breast. Insoluble and soluble fibers are common ingredients for drinks. As researchers learn more about fiber's role in immune function, digestive health, and cholesterol and blood sugar levels, meal replacement drinks are being introduced that contain disease-fighting fibrous substances derived from oats, flax, quinoa, chicory tool, fruits and vegetables. Nutrient boosters such as echinacea, ginkgo and probiotics, which are commonly found on smoothie bar menus, are also finding their way into meal replacement products. Some contain ingredients found only in dietary supplements, and therefore are sold as such.  Again, it is very important to read the labels and understand what is in the drink.
Pros and Cons  As was mentioned previously, meal replacement drinks are convenient and come in a variety of flavors.  Drinking replacement meal shakes can ensure that one is consuming the recommended daily allowance of nutrients that may be omitted otherwise.  There are many health benefits for incorporating meal replacement drinks.  Those who desire to build muscle or improve athletic performance benefit from including meal replacement drinks that are high in protein.  Those who are dieting to lose weight can include meal replacement drinks to control the amount of calories that are consumed.  However, if not managed properly, one may end up consuming more calories if the meal replacement is treated as a snack in addition to other meals.
 Sports Drinks
What's Brewing?  The first sports drink was developed in 1965 by doctors at the University of Florida to encourage the athletes of the Gators football team (who practice in the Florida heat and humidity) to consume adequate amounts of fluid and electrolytes for optimum athletic performance.  The end result was Gatorade -- water with added carbohydrates, sodium and potassium. Today, there are a variety of similar sports drinks in an array of flavors and neon colors designed to taste good.
 Pros and Cons   Studies show that athletes -- even weekend warriors and kids running around their backyards -- benefit from consuming sports drinks instead of water. Individuals tend to drink 25 percent to 90 percent more of flavored sports drinks than plain water, thus preventing dehydration. In addition, the carbohydrates in sports drinks help fuel active muscles, preventing fatigue and encouraging increased effort.  However, sports drinks are not helpful when you're simply lounging around watching TV or hanging out at the pool.  Ounce for ounce, sports drinks have about half the calories and sugar of fruit juice or regular soft drinks, but the calories add up more quickly when you are not conscious of how much you are drinking.  Although one should be exercising on a regular basis, if you're not, drink water instead of a sports drink.  There is no need for the replenishment of electrolytes or extra calories without the activity.
 Energy Drinks
What's Brewing?  Energy drinks are beverages which contain legal stimulants, vitamins, and minerals, including caffeine, guarana, taurine, various forms of ginseng, maltodextrin, carnitine, creatine, and ginkgo biloba. Some may contain high levels of sugar, or glucose. These drinks are typically marketed towards young people, students, people "on the go" and those who play sports.  Many of these beverages are flavored and colored to resemble a soft drink.  Energy drinks are different from sports drinks in the fact that energy drinks simply provide lots of sugar and caffeine with little to no health benefits.  Sports drinks, on the other hand, are intended to replenish electrolytes after vigorous activity.
Pros and Cons  The main purpose of an energy drink is to increase brain activity, stamina and physical performance in a person. Many people drink these drinks when they have to pull "all-nighters" or desire to enhance performance.  If not drunken in excess, energy drinks can be very helpful during day-to-day and major events.  However, when consumed in excess or if one is hyper-sensitive to caffeine, energy drinks can have an adverse affect on how one feels, eliciting a jittery sensation and an elevated heart rate.
Fitness Water
What's Brewing?  A vast majority of health and fitness professionals recommend hydration as a primary step in a person's overall wellness and physical/mental performance. A fairly new item on the market is fitness water.  Fitness water contains added vitamins, minerals, and other functional ingredients. Fitness water has fewer carbohydrates than sports drinks.  A combination of high-fructose corn syrup, crystalline fructose, and healthy sugar substitute keep the carbs and calories low.
Pros and Cons  For those individuals who just cannot stand the taste of pure water and who just cannot get hydrated enough, fitness water is a great alternative.  The sugar content and unwanted calories are minimal. On the other hand, some brands contain high amounts of vitamins and minerals that may exceed the daily allowance especially if one is already taking a multi-vitamin.  One should not consider fitness water as a substitute for a sports drink if one is vigorously performing long distance activity for a long period of time.  Fitness water will not provide enough carbohydrates needed during vigorous activity.
 Body Shots
What's Brewing?  Popular on the scene are shots of health drinks consisting of exotic tropical fruits and herbs.  Examples of these shots are mangosteen, pomegranate, goji, green tea, wheatgrass, and the ACAI berry.  One can consume these shots by themselves or within smoothies.
 Pros and Cons  There are many benefits from consuming these health shots.  The downside of consuming these shots is that it can become quite expensive.  Highlighted is a list of claims that companies who sell these health drinks make.  (See Below)
Next time you are reaching for that refreshing thirst quenching drink, remember that water is your best option.  It is ideal to eat your food rather than drink your food.  If you feel that you are needing the extra supplementation or replacement because all else has failed in terms of nutritional needs and weight loss, go for the witches brew that gets wicked results.
Happy Halloween!!
Anti-fatigue (energy booster)
Anti-inflammatory Analgesic (prevents pain)
Anti-ulcer (stomach, mouth and bowel ulcers)
Anti-depressant Anxyolytic (anti-anxiety effect)
Anti-Alzheimerian (helps prevent dementia)
Anti-tumor and cancer prevention
Helps the immunesystem
Anti-aging
Anti-oxidant
Anti-viral
Anti-biotic(modulates bacterial infections)
Anti-fungal(prevents fungal infections)
Anti-seborrheaic (prevents skin disorders)
Anti-lipidemic(blood fat lowering, LDL)
Anti-atherosclerotic(prevents hardening of arteries)
Cardioprotective(protectsthe heart)
Hypotensive (blood pressure lowering)
Hypoglycemic (anti-diabetic effect, helps lower blood sugar)
Anti-obesity (helps with weight loss)
Anti-arthritic (prevention of arthritis)
Anti-osteoporosis (helps prevent the loss of bone mass)
Anti-periodontic (prevents gum disease)
Anti-allergenic(prevents allergic reaction)
Anti-calculitic (prevents kidney stones)
Anti-pyretic (fever lowering)
Anti-Parkinson
Anti-neuralgic (reduces nerve pain)
Anti-vertigo (prevents dizziness)
Anti-glaucomic (prevents glaucoma)
Anti-cataract (prevents cataracts)
Pansystemic - has a synergistic effect on the whole body
Categories: Nutrition
/